Quality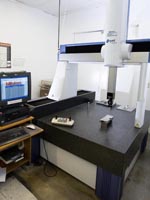 Quality is the key to JIMS' success story. Ultimately, any product shipped from JIMS bears Jim Thiessen's stamp of approval. In other words, if JIMS machines a part for you, Jim stands behind it. This company wide integrity is the foundation for JIMS' everyday machining practice. Our manual has been found to be ISO-9000 compliant. Managers, machinists and inspectors work together with precision instruments, process control and work ethic to assure consistent and precise quality, day after day.
Methods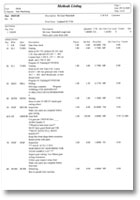 Process Control is key
At JIMS, process control is first step. Production Methods are written for every job that is released to manufacturing. These methods detail every operation, starting from material requisition, through manufacturing, all the way to final inspection. All job methods include first article inspection & audit inspections daily. All outside processes are controlled via inspection before and external processing.
Click here to see a sample of JIMS production methods.
Starting with material
As mentioned above, material requirements are not only identified on the print, but on the Production Methods as well, and JIMS maintains a great relationship with many mills and foundries. We have experience in machining a wide range of Aluminum Alloys, Titanium, Chromium-Molybdenum Steels, Alloy Steels, Stainless, Copper, Brass Alloys and Plastics.
Aside from these raw materials, JIMS is also very experienced in designing, procuring, and working with castings, forgings and extrusions made from many different material types.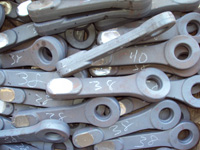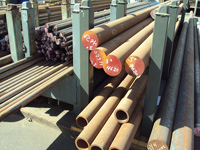 Inspection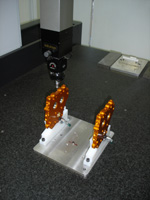 All operations of all jobs require a first article inspection. From there, inspectors perform audit inspections to maintain quality and consistency throughout the production cycle. A Mitutoyo CMM in a temperature-controlled environment is key to our ability in guaranteeing quality. This Coordinate Measurement Machine is fully automatic and programmable. This tool, combined with a Renishaw Touch Trigger probe and qualified inspector, can check a part in minutes or seconds, a mere fraction of the time required to inspect a part manually.
JIMS also incorporates and requires all machine operators to inspect parts throughout their machining cycle. This first layer of inspection simply adds assurance that parts are to print.
There are many quality processes in place at JIMS, which are all outlined in our quality manual. When the time comes, JIMS will outline what processes and procedures best suit your individual requirements. As mentioned we have the ability to submit CMM and process control records associated with each individual part manufactured at JIMS.
Engineering, Programming, Tooling & Testing