Specialty Services
Although JIMS can handle almost any manufacturing or machining project, there are some areas of expertise that set JIMS apart from all the rest:
Work Holding & Inspection Fixtures
Work holding, or better known as machine tooling, is the stepping stone to repeatability and project longevity. JIMS has manufactured ALL of our workholding, in house, via our prototype department. From the simple, to the complex, JIMS can design and manufacture your workholding.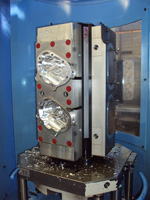 Regardless of whether you plan to manufacture your parts with JIMS or if you need machine tooling developed and manufactured, JIMS is the answer.
Alongside workholding, often times are inspection fixtures. JIMS has manufactured many inspection fixtures, including base plates for CMM, Go / No Go gauges, assembly fixtures, etc.
When it comes to fixturing, JIMS can design and manufacture to your specific needs.
Gear Cutting (Hob)
JIMS has designed several motor vehicle transmissions, and produced these complete working assemblies in the thousands. With approximately 12 gears per transmission, JIMS has ultimately cut several hundred thousand gears.
We pride ourselves on producing high quality AGMA gears, time after time.
Pictured here is a motorcycle transmission gear. With our Gleason Phoenix 125GH CNC gear hobbing machine, JIMS can cut all the gear teeth with a cycle time as fast as 39 seconds. Speed and accuracy are the strong points of our gear cutting capability.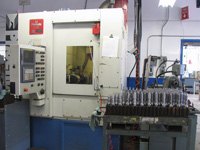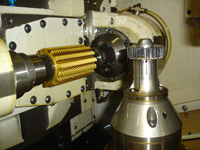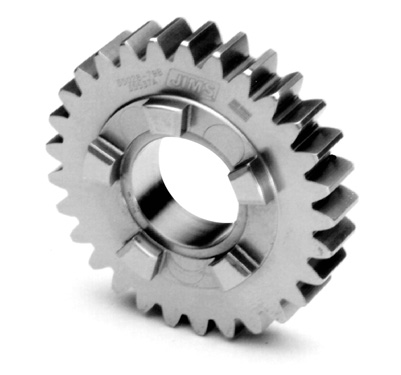 Shaft Grinding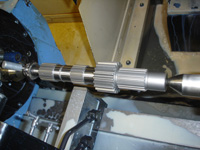 Critical engine shafts are the cornerstone of what built JIMS' reputation. For 40 years, JIMS has developed the machining cell, and the talent to grind very tight tolerances on engine and transmission shafts as long as 16".
With five machines in the cell, JIMS has an abundance of capacity. This precise manufacturing process is definitely a service of which JIMS stands alone and shines. If youíre looking for a solution for shaft grinding, JIMS is your one stop source.
Product Development
JIMS has internally developed hundreds and hundreds of parts, from the initial concept. Our development team is a diverse, experienced, lean team that includes expert machinists capable of both CNC and manual machining, along with programmers, engineers, mechanics, project managers, and research specialists.
Are you looking for a solution to get to market... i.e., concept to completion? JIMS can handle any and all aspects of the job, and supply a complete part or assembly, packaged and ready for resale.
The product development team specializes in working on concepts, and producing prototypes, developing test plans, and brainstorming solutions. Every step of the way is documented and tracked, assuring a project is delivered on schedule and ready for production. SLA Prototypes can also be utilized.
Prototype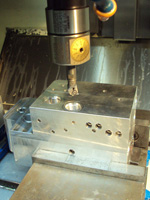 This small but effective department is packed with CNC and manual machines and tools necessary to create a working prototype. Prototypes are key in the validation process of any idea or product. Although initially expensive, prototypes can save time and money in the long run assuring once your part hits production, itís right, and it works.
Combustion Engine & Transmission Development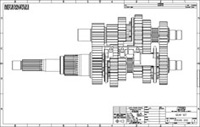 One very unique talent that JIMS has under our roof, is our experience with combustion engine development, and manual transmissions. JIMS has developed several motorcycle engines and transmissions and produced these products in the thousands.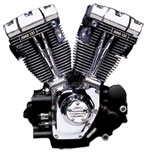 With our in house Superflo Dyno, valve train test stands, vehicle maintenance, assembly and teardown, etc... JIMS can help you develop and produce products similar to: engine cases, flywheels, pistons, cylinders, heads, transmission housings, transmission assemblies, etc.
If you need a partner to help you develop and manufacture working engine and transmission assemblies, give us a call.